Links with Romania started in 1992 with a trip made by Jon Norman, a postman, and Richard Burgess, a farmer. Together they drove a small truck full of aid to the Dorohoi region of northeastern Romania, near the borders with Ukraine and Moldova.  The gifts they took were simple yet practical. Clothing, furniture and basic medical equipment were destined to improve the lives of people in the rural communities.  Yet just as important as the gifts were the care that was shown and the friendships that were created.
As awareness of the needs grew, Jon and Richard turned to their respective Churches, Horley Baptist in Surrey and Emmaus Fellowship in Lampeter, for help.  Both Churches provided positive encouragement, allowing Jon and Richard to publicize what they had seen and helping them to prepare for a return trip. In the wider community, support came from a variety of individuals, companies and other organisations.  In particular, we acknowledge the invaluable support from Royal Mail and ParcelForce who provided storage and transport facilities for many years.
The friendships that developed and our concern for the people of this often-overlooked part of Romania have taken us back to this remote region every year since. Travel to this area is not easy when compared with the west and south of Romania but the work has grown from two men with a small lorry to our current practice of taking eight or nine articulated trucks each year.
The increasing volume of aid, together with the various long-term projects that grew from it, necessitated the adoption of a more formal structure for our activities.  The Romanian Aid Foundation was formed as a registered charity in the UK whilst a Romanian counterpart, Asociatia Neemia, was established in Dorohoi. An office and warehouse were acquired in Dorohoi and a formalised process for distribution of the aid was put into place.  A permanent full-time co-ordinator was recruited in Dorohoi and a vehicle provided for his use in his work.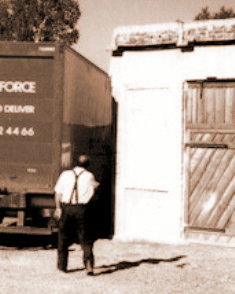 As more and more needs were identified it became necessary to expand both the remit and the capabilities of Asociatia Neemia.  Additional staff were appointed, which brought with it the problem of funding them.  Rather than trying to obtain additional cash donations from the UK, it was decided to establish a small shop in Dorohoi, where a limited amount of the incoming items could be sold to those local people with some ability to buy but who would otherwise not be able to afford normal shop prices. The amount and type of items sold is capped but the income derived from the shop is enough to cover all the expenses of operating in Dorohoi, including salaries, buildings and vehicles, plus it gives a small surplus which is used to help people with particular financial needs.
By contrast, the UK activities are undertaken entirely by volunteers – RoAF has no paid staff in the UK.  The Churches in Horley and Lampeter continue to be actively involved, but we have been joined by a number of groups in various parts of the UK.  We have access to storage facilities near Swansea, which acts as a base in south and west Wales, and a larger central warehouse in West Sussex serving southern England.  Elsewhere, individuals and small groups collect suitable items on our behalf and forward them to one of these centres as circumstances permit.  We are grateful to all those who to help this work, whether by donating aid items,  preparing and packing them, or providing finances, publicity or prayer support.
RoAF is essentially a faith mission and receives no direct funding from state or corporate sources.  We endeavour to fulfil the commission given in Matthew chapter 25 and we look to God for the provision of all that is needed to continue His work and for guidance in how those resources are deployed. Despite our Christian roots, we do not place any religious obligation or restriction on any of our beneficiaries, supporters or staff.
In January 2001 Jon Norman was awarded the MBE in recognition of the work of the Romanian Aid Foundation.  In 2012 Richard completed his twentieth year of involvement in the provision of aid for needy people of Dorohoi and district. He has now completed over 80 aid trips to Romania and his reminiscences of those first twenty years are summarised in our January 2013 newsletter, on line here.
---
Published, 09 Jan 2014: Page updated, 16 Apr 2019